True backup service for business and home
With template3 Backup, your data is always safe, no matter what happens to you or your office. Disk crash, virus, laptop theft, accidental deletion, or fire? No problem. Your data is safe to be restored.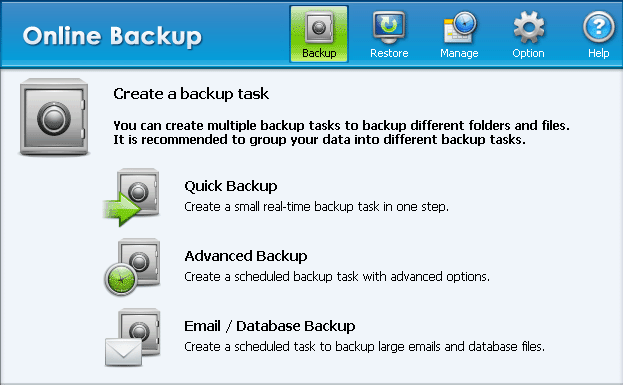 Everyone needs to back up on a regular basis
True for both your business and home. E-mails, life-time memories, customer information, and projects that you have worked on for months. Don't lose anything!
template3 backup can be setup in seconds and will never break
Just install Backup 3.0, no backup device needed, save you money on hardware. Never worry about the risk of broken hardware.
Schedule recurring backups and leave the rest to us
Our software automatically uploads your critical files to our secure storage servers.
Set your working folders for real-time backup
As soon as a file is changed, it will be updated on our server, and your working files are protected in real time.
Back up multiple computers at your home or office
You can manage the backups for all these computers in one single account.
Only incremental changes are updated, saving time and storage
Every time a scheduled backup task runs, it only updates the file changes and add newly created files, saving both time and storage space on your account.
Restore old file versions
In the event of accidental deletion or overwrite, you can travel back in time and restore the right version. Up to 10 versions of your files are backed up.
Encrypted backup for ultimate privacy and security
You can choose to "Backup with Encryption". Extremely unlikely, but even if being hacked, your data is still safe because no one except you knows the encryption key to decipher your secure data.